With the surging cases of COVID-19 since March, 2020, India experienced heavy lockdown. The more its effect seemingly became prominent; the Government imposed strict laws on daily transportation like daily runner buses and trains. Earlier, bicycle was regarded as poor people's strength and mobility, however, now even the illustrious, high profile, or middle class society in India still falling in love with spikes, all over again.
Everyone thought it's not a big deal to cycle their way to office, or to bring basic amenities like stationary, medicines as there was fewer traffic or congestion over the road at the time of lockdown. There are multiple accounts where wholesalers felt it might be a part-time craze, and not going to last. However, in the initial days in 30% hikes in market base, made people believe in its urgency.
According to CycleWorld Bangalore shop in Kalyan Nagar, last year they experienced a record –breaking sell after lockdown. They are recalling their experience on how people were threatened by the expansion of the CORONAVIRUS and made their way on buying bicycles to keep up with the #socialdistancing norms.
Apart from following social distancing guidelines, fitness enthusiasts of every age thought it is their only way to 'stay in shape'. During COVID lockdown, mental and physical health was completely distorted, people fall under the anxiety, depression, and fatigue. Many found cycling as their only way out to inhale some fresh air. Many doctors and nutritionists felt it's unnecessary to hit the gym every day. Rather, they recommend everyone at least 15 minutes of cycling to release some 'happy hormones'.
According to global level researches, minimising carbon emission at least 2% daily globally can reduce the ultimate threat of spreading CORONAVIRUS. Many environmentalists and world thinkers felt cycling is the best way to reduce carbon emission. However, although it was difficult to switch, yet Indian urban population is ready to accept this 'behavioural change'. In metro cities like Kolkata, Mumbai, Delhi and or even in wholesale cycle market in Bangalore, shopkeepers are overwhelmed with the hike they received in the market (around 40%) in 2020.Best part is such immense love for bicycle is not limited among kids, surprisingly, the joy of riding has exceeded even among adults.
Interestingly, this Pandemic has turned out to be 'blessing in disguise' for many individuals, as they started forming cycling groups, and campaigning everywhere. According to many news reports, this cycle groups became 'hand of God' for many as they started distributing essential goods, sanitizers, masks door to door.
So will India continue to love its age old mode of transportation?
In a country like India, maximum population is poor and depended on MSME sectors; it will be wrong to say that Cycle has lost its traditionalist popularity. Rather, we can conclude by saying that it is again emerging as 'new mode of transportation', and gaining some added popularity because of extraordinary 'urbanised mobility'.
Cycleworld is your one stop bicycle purchasing solution in Bangalore. Visit our store. We are even available online in Amazon.in.
You may call it an age old mode of transportation, but interestingly in recent times, with the occurrence of COVID-19, Cycle seems to be a boon for people under the heavy lockdown since March 2020 in India. The sales of bicycle in India last year have crossed 18 million. Since emergence of the pandemic, CORONA virus has thumped upon the world. People faced hardest time even while going to bring basic amenities like stationary, medicines, and essential goods. When the government imposed heavy lockdown all over the country, maximum time's one menace raised in everyone's mind, how would they go out?
Since past few decades, we have seen people riding bicycles mostly from underprivileged and deprived community. To our surprise, this Pandemic has changed the dynamic. India has seen how people from privileged, rich background, from all strata of the society, are going back to simple art of living.
Top cycle manufacturer companies in India documented their last year's experience on how they didn't know that they have to fulfil a sudden arising demand in cycle industry , as initially they didn't expect astounding surge in demand. After a few months, the struggle settled in. In fact, in the past few months people are more inclined to buy bicycle online than to visit store.
The Emerging cycle groups in India
Post–lockdown, when gyms and swimming pools were shutting down, people yet again understood the importance of these delicate two wheelers, when it becomes an exemplary alternative to core gymming session. The boon of daily pedal movement is that it even makes your heart smile along with a plethora of medically proven health benefits.
As per emerging cycling groups, they formed cycling event, cycling marathon all across cities including metro cities like Kolkata, Mumbai, and Bengaluru as it has become a 'fitness mantra' for many. On the contrary, it is an undenying fact that the biggest problem of any third world countries like India is during Pandemic they faced mass-hunger because of lack of availability of food items. These cycle groups successfully recorded their name and bagged righteous fame by delivering basic commodities to the needy, food mongers.
In reviving cycle industry, metro cities like Kolkata, Mumbai, and Chennai played a pivotal role. Kolkata is known for its heavy traffic congestion, yet in the time of lockdown, many daily passengers relied only upon bicycles to hit the road. Bengaluru based bicycle manufacturer companies have reported how they came across an upswing in demand. According to them, from 8 to 80 years old, everyone is riding a bicycle as they want to stay fit both physically & mentally.
Urban Cycling – a post pandemic concept
With the advent of COVID-19, the concept of 'urban cycling' has been resurrected. Campaigning like #pedalkaro #pedalbychoice is trending from thousands of Twitter handles to promote urban cycling in India. In a way, we have to acknowledge the fact that how such orientation; campaigning, collective marketing strategy brings in mobility in reviving the traditional bicycle as 'path breaking boon of today'.
This blog post is only written for Cycleworld a Bengaluru based top selling cycle brands in India. Currently, their product is available on Amazon.
Undeniably the pandemic has brought the humble cycle back to prevalence. The fear of using public transport for day to day commute has brought back the value a bicycle deserves. Every state in the country is witnessing this changing trend.
While Bangalore is seeing an exponential growth in cycle sales, other metropolitan cities like Delhi, Chennai, Kolkata are all seeing this upswing giving way to a whole new definition of man's one of the earliest creations. Across cities, several of them are preferring cycles over any other mode of transport whether it is for running daily errands, or to go to work or for exercising.
 And it's not just for the fear of using public transport, but the cycle is gaining momentum because of its health benefits as well. With the governments halving the capacity of buses and metros and strict adherence to social distancing norms, people are left with very little choices. The ones who can afford private vehicles are taking their own transport but the ones who rely only on public transport are left with only one best option and that is the bicycle.
The bicycle stores are coming back to life again and showrooms are seeing record business in the last couple of months which is expected to rise several fold.
                Although the normal road bikes are the ones which are peaking the sales but other bikes like multi gear and mountain bikes are also in demand. People from all walks of life be it IT professional, teachers, doctors, bank employees are all opting for this safer and healthier mode of commute. No matter which model it is all cycle prototypes are seeing rocket high sales. And many of the stores are struggling to meet the demands as the stocks are replenishing.
As our lifestyles change for the better, the only thing left to do is to make the roads safer for the bike riders. Hopefully the government bodies will pay attention to people's heed for introducing bike routes. If that comes into effect like many other countries, India is sure to move into the direction of achieving an unpolluted, clean and pure atmosphere free of vehicles that make our lives miserable with traffic jams, when we have such an amazing option right in front of us and that too at a very affordable price. No one can deny that this is the best gift that we can give our future generations to come – a healthy and safe place to live.
Still, smothering over the chances of losing weight just by cycling? Wondering whether to choose biking over gyming? Then don't ponder any further because proven facts tell you that cycling can redeem you of those excessive fats from your body. Burn off those extra calories in a fun, healthy, and environment-friendly way. Bring a cycle into your life and make cycling your daily regime.
Did you know that moderate cycling can burn about 300 calories in just under an hour? If these figures aren't enough for you to give a head start then consider the fact that buying a cycle, which by the way can be a friend for life, will cost you way less than your monthly gym subscription. In effect, it will cost you next to nothing. Then why spend your hard-earned money and time on that expensive equipment when you can truly enjoy the pleasure of losing weight with probably just a 30 min ride on your humble cycle. Just imagine enjoying the blissful nature, the gentle breeze, the morning rays, or the evening sunset view, what more can you ask for to begin a beautiful day or maybe bring an end to a stressful work routine. All these cherishing experiences with a rewarding weight loss.
In effect introducing cycling into your daily routine is not that very difficult if that is what is stopping you from getting a bike. It is as simple as running your day to day errands on a cycle. Go get your groceries, or maybe visit a friend or a relative or even better – cycle to work, and if the work location is far then cycle to a possible destination, and from there you can pick up public transport. Ideas are numerous, all you need to do is just grab a bike and get going.
There is no argument on the certainty of cycling being the most enjoyable means of slimming down. Get yourself into better shape and healthy living by pairing a cycling routine with a salubrious diet. Healthy eating and a good night's sleep with regular exercise is the only proven recipe for weight loss. Regardless of whether you are an amateur rider or a seasoned pro, losing weight cycling can be achieved by applying a few simple techniques. Here are some tips to motivate you:
Be patient and have self-control. We all know weight loss does not happen overnight. To build up that endurance. If you are a beginner, ride at a moderate pace. Once you get a hold of your pace, you can try including 2 or 3 high-intensity sessions a week.

Eat healthily and at regular intervals. This also means that you need to stay clear of those temptations that can make you wander off from your goal.

Get plenty of sleep. Six to eight hours of sleep is essential to help the body repair and build muscle after each day. 

Cut down on your sugar consumption. This includes your alcohol intake as well.

Make your commute count. Ensuring a bike ride for every possible commute that is a part of your day to day life will make your every pedal count. Run your errands or cycle to work. Make the most out of your travel.

Hydrate yourself. Definitely, old school advice but those electrolytes which you lose from your sweat need to be replenished so have your refills ready.

Avoid overtraining. Don't go too hard on your bike particularly if you are getting into cycling or starting to do more. You might risk tiring yourself out completely or even worse might even injure yourself and therefore putting yourself out of action.

Last but never least – Enjoy your ride. The best thing about cycling is the fun involved

. Whether you like speeding along the streets or ripping along mountain bike trails, or long contemplative rides on your own or social rides with family and friends, there is a lot to love about cycling and you'll almost forget that you're actually exercising while doing it.
If well integrated into your life, biking can be a very effective way of burning calories. With proper eating habits and daily cycling exercise, there is no doubt that you can shed those extra pounds, and who does not want to get lighter and leaner in their lycra.
If you are wondering where to find a bike that fits your lifestyle, your pocket and can also be your fashion statement then drop into Cycleworld. Whatever your style is, classy or groovy, sophisticated or trendy, there is a bike for everyone. There are high-end bikes for professional riders. Bikes for every age, bikes from every brand, bikes that suit everyone's pocket, all under one roof – CycleWorld. And even greater news, CycleWorld is now available on Amazon.
The advantages of introducing cycling in our daily routine and its influence on our sound living is
not any more a subject of debate. Everybody consents to the way that cycling indeed is a solid
method of commute as well as fitness. Cycling as a means for our everyday commute has
already gained a lot of attention amongst the transport and environmental division for numerous
advantages over mechanised travel. Off late, the health sector has begun to appreciate and
embrace cycling for its capability to increment physical activity levels in kids, grown ups and the
elderly. Yet at the same time with regards to putting things to move, the lion's share of us makes
a stage back. Well, in that case, you should know the benefits of cycling which will be intriguing
enough to start a whole new lifestyle.
No more eating an apple to keep the doctor away, experts suggest riding a bicycle for better life
and healthy living. As a fact, people who cycle for at least 30 minutes in a day are far less likely
to fall sick compared to the ones who don't. If this fact is a great start then wait for the entree.
People who cycle regularly live a longer life and are considered at a lower risk of some of the
serious diseases like obesity, high BP, diabetes and even cancer to certain extent. You can
even reduce the chances of heart attacks and other heart-related issues. Women who commute
by walking or biking at least 30 minutes each day also were found to have a decreased risk of
breast cancer. Cycling offers great potential to keep elderly people active and mobile if
conditions are safe. Furthermore, the icing on the cake is that cycling on a regular basis
enhances the quality of sleep. Overwhelming cardiovascular physical activity like cycling can
improve the nature of rest and release you of all the stress giving you a good night's sleep. You
would then be able to bid farewell to your restless and sleepless nights.
Regular bicycling helps you maintain your weight. If you think that hitting the gym can speed
track your weight reduction then you should consider introducing cycling into your daily regime.
Commuting by car has been linked to weight gain and obesity, even in drivers who make time
for exercise.
Cycling has also been found to reduce anxiety, depression and fatigue. Cycling needs heaps of
resolution and perseverance for accelerating to greater distances. This endurance for pedals
changes an individual into a more grounded one with increased stamina. If there is any other
sport that you love indulging then, this additional endurance will assist you to improve your
performance.
So that's a brief summary of health benefits. It's just not about improving health, wellness, or
fitness, but everyday bicycling can be beneficial to your bank balance and more importantly on
the environment as a whole. And this is just the beginning of the advantages you can count
upon by just making a slight difference to your daily schedule.
Now, if you look upon the perks of cycling on the environment, it is several fold. By Choosing
bicycling as your mode of commute to shorter distances or as your to and fro office transport for
work, you are not just sparing yourself from the reprehensible gridlock of traffic congestion yet in
addition lifting the earth by giving it a climate liberated from air pollution. Cycling, if made as the
primary mode of commute, can eliminate ozone depleting substance discharges and worldwide
environmental change.
Bicycles can be an environmentally sustainable alternative to cars. When it comes to other
vehicles, even a short drive of around 5 miles to work every day can rapidly signify in excess of
100 gallons of gas over a year, and correspondingly add to carbon dioxide outflows and global
climate change. Biking to work doesn't need petroleum products and thus you can assist in
reducing your contribution to environmental change. We all know, cycling does not emit any air
pollutants helping us to keep our city clean and breathable. Reducing noise pollution especially
in our overcrowded cities and towns is one more added benefit to be considered.
Cycling is one approach to keep a greater amount of your hard-earned money in your pocket.
Owning a bicycle is far less expensive than possessing a car thanks to parking, insurance, fuel,
and upkeep costs. Also, drop your gym membership for a rather pocket-friendly option and get
yourself a bicycle.
Having described the benefits of cycling, it is trivial to know that incorporating this habit into your
daily routine is as easy as any other perpetual habits. Cycling can be effortlessly integrated into
everyday life, in contrast to gym workouts. You can even enjoy it as a complete family workout.
You can cycle to work. If your office is really far then consider cycling up to the nearest bus/train
station. Although heavy on pockets, you can contemplate on buying an e-bike. E-bikes' great
promise to public health is that users may choose to ride more often, for longer distances, in
steeper terrain, with higher loads, or at an older age. As such, e-bikes have the potential to
expand cycling to parts of the population for which conventional cycling is not practical.
Once you get into the habit of cycling to work then rest every other commute like running for
errands or even family outings will be made on bikes. It's that addictive. Bicycling to pick up
groceries or getting things done around the neighborhood isn't just an incredible method to
incorporate exercise into your day, it gives an amazing lift to the local economy. Individuals whose
bicycle tend to spend more locally than individuals who drive.
Efforts need to be put to encourage more and more people to adopt cycling. The evidence
suggests that reducing motorized traffic volumes and speeds, and separating cyclists from
traffic through infrastructure or bike routes on less frequented roads play key roles in attracting
more people to cycling — as well as in increasing the safety of the cyclists. A key reason to pursue
day-to-day cycling as a strategy to improve public health is its feasibility for large parts of the
population and, in particular, all age groups.
Whether you choose to pedal for health benefits, to help the environment, and reduce air
pollution, or just to try out a new activity, or even to supplement another sport, cycling is a ton of
fun improving your quality of life.
The bicycle has had a considerable effect on human society, in both the cultural and industrial realms. This human-powered, pedal-driven, 2 wheeler came into existence in the 19th century and by the early 21st century more than 1 billion were in existence. They are the principal means of transportation in many regions. They also provide a popular form of recreation and have been adapted for use as children's toys, general fitness, military and police applications, courier services, bicycle racing, and bicycle stunts. Although cycles were in use at all times with the increasing use of other modes of transport, the bicycles had taken a back seat. But who would have guessed that with the onset of a terrible pandemic the modest bicycle would rise back to enormous significance in the span of just a few months, And now once again, it is gaining its popularity as means of no contact, safe commute for daily travel to office and back, or even just to enhance the fitness level by adopting a healthy lifestyle making cycling a part of the daily regime.
Not only are we seeing an outburst in bicycle sales with retailers coping up to the increasing demands, but repair shops are also seeing a surge in the number of people bringing their old bicycles for a revamp. Whether it is people trying to be healthy, environmentally friendly, or save money by ditching the car during the recession, it seems that more and more are getting on their bikes. The long term trends point to a bright future for bike shops. Krishnasamy Devraj, the director, Cycle World, which has 17 showrooms across the city, said that there was at least a 20-25% rise in sales in almost all the showrooms. "Compared to June 2019, we had a 300% increase in sales this June. As of now, the demand is outstripping supply. It will continue to be high for at least another six months. Adult and premier bicycles are seeing huge demand and there are more takers for electric bikes too. Many are using these two-wheelers to commute to work," he said.
India is the second-largest manufacturer of bicycles in the world, with 12 million units annually.
But it looks like this number needs to increase a couple of folds to meet the present demand. The situation points to the fact that cycles are here to stay for a longer time than anticipated. With the introduction of e-bikes, people are more likely to get drawn towards taking up cycling as their primary mode of transportation for traveling to work or for just running personal errands. Cycling as a habit and daily routine is definitely a win-win scenario for anyone considering the huge list of health benefits in store.

There has been a steady rise in bicycle sales in Bengaluru from May. | Photo Credit: Sudhakara Jain
Cycles are no more a poor man's ride. Many cycle repair shops have their days packed with people coming from all walks of life. Venkatesh. K.B., who owns a bike repair shop in K. R Puram, said that there has been a surge in demand for spare parts and cycle pumps, apart from repair requests. "I have been in the business for over three decades and I have never seen such enthusiasm for cycles," he said. Indeed, even the interest for rental bicycles are on an ascent. The response for the bikes deployed posts the lockdown has been extremely overwhelming. People have even begun using rental bikes for grocery shopping.
This new era of cycling is additionally observing a surge in the manner, individuals want to invest their leisure time and outings. A consistent increment in the inquiries about bicycle tours and rallies is proof of this reality. Cycling clubs and cycling groups are the trending hotspots nowadays.
From fitness to social distancing, perhaps it is time to celebrate the humble bicycle's new incarnation as an eco-friendly, groovy, trendy or classy, fitness machine that is also the best zero contact means of transport in these epidemic times.
Image copyrightGETTY IMAGES
Fear of catching coronavirus on public transport has helped lead to a boom in cycle-to-work schemes.
The schemes saw a 200% increase in bicycle orders from people working for emergency services.
Demand for more mobility and exercise amid lifestyle changes imposed by the lockdown has also boosted bike sales across the UK.
"Very strong" bicycle sales at bike and car parts chain Halfords this week saw its shares soar by 23%.
Some bike stores are battling to meet demand. Broadribb Cycles in Bicester normally despatches 20-30 bikes a week, but manager Stuart Taylor says the shop is currently selling 50 bikes every day – and seeing a commensurate rise in demand for servicing.
"It's just gone crazy," he told the BBC. "People are dragging bikes out of sheds and garages and finding they need new tyres and cables.
"We normally take in bikes for repair and servicing and deal with them for next day [pick-up]. Now we're booking services for two weeks [ahead]."
At Lunar Cycles repair shop in north London, the mechanic says trade was booming, then ended the call to avoid upsetting the socially-distanced queue outside.
Andrew Hassard from Mango Bikes in Ballyclare, Northern Ireland, said: "The bicycle industry is having a boom. People are saying 'I'm getting back on a bike after 15-20 years – I'm going to use it during lockdown – then commute on it as well,' to avoid public transport."
A recent poll for the consultants SYSTRA suggested 61% of Britons are nervous of taking public transport post-lockdown.
Adrian Warren who runs an alliance of cycle schemes, told the BBC: "This past six weeks, we have seen the biggest experiment in transport policy this country has even known. It's clear the default option is cycling."
More cycling infrastructure
Cycle schemes allow employees to claim a tax credit on bikes they buy at work.
But rusty cyclists may be nervous on busy roads, so the pressure group Cycling UK has commissioned research showing how 100 "pop-up" lanes in 10 English cities could make cycling and walking easier.
It maps UK cities which have created extra cycle lines during the crisis, in many cases taking over one car lane on a dual carriageway.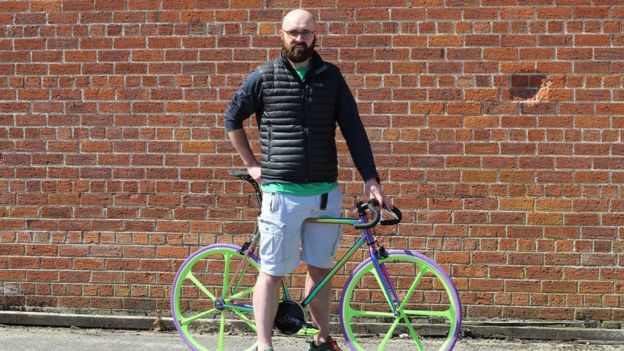 Image copyrightANDREW HASSARDImage captionAndrew Hassard of Mango Bikes says people now want bicycles as a form of regular exercise during the lockdown
The Cycling UK research from Leeds looks at English cities with a high cycling potential and has identified 99.2 miles of streets and roads in London, Birmingham, Manchester, Leeds, Liverpool, Bristol, Leicester, Sheffield, Newcastle and Cambridge which could benefit from temporary walking and cycling infrastructure.
Cities round the world have been freeing space for people on foot and bikes, in response to the coronavirus lockdown.
In Germany, expanded cycle lanes have been marked by removable tape and mobile signs.
Paris is rolling out 650 kilometres of cycleways, including a number of pop-up "corona cycleways".
Some cities, like Milan, are making the changes permanent.
The Scottish government has announced £10m of funding for councils to provide temporary space on the roads this way, and Cycling UK is urging ministers in Westminster to follow suit.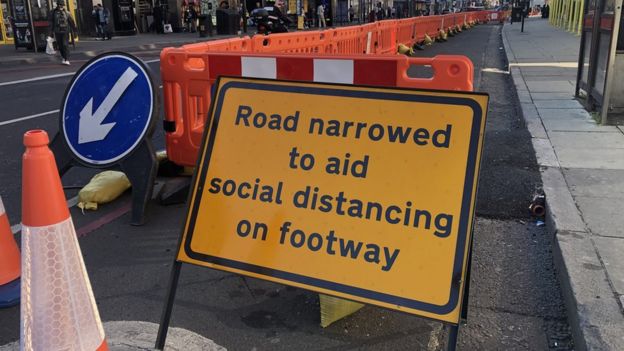 Image captionTemporary walking infrastructure set up on British roads during the coronavirus lockdown
In London, the walking and cycling commissioner, Will Norman, told the Online magazine BikeBiz that the capital's public transport capacity is running at a fifth of pre-crisis levels, meaning post-lockdown up to eight million journeys a day will need to be made by other means.
UK Transport Secretary Grant Shapps has in fact said that he favours getting people out of their cars, overall.
Mr Shapps told Sky News that he sees cycling and walking as part of the solution.
"Active transport can keep people off public transport and get people to work under their own steam – and that can be a very important part of this [the nation's post-lockdown] recovery as well," he said.
Not everyone is in favour: The libertarian group the Alliance of British Drivers has strongly opposed removing road space from motorists. But Edmund King, president of the AA, said he didn't oppose the transfer of road space to cycles "where appropriate".
By Roger HarrabinBBC environment analyst
Given the situation and a paradigm shift in people 's mind, this is the right moment to encourage more Kids – Adults – Senior Citizens to take up cycling as Play – Commute – Fitness Activity.  Cycling is just not reserved for physical activity but also has a great influence on mental fitness too, which is undoubtedly the need of the hour.

Cycling can benefit people with reduced anxiety, to better postures, and account to more savings monthly, yearly. 

We have seen the upsurge with advanced cars and motorbikes and urge people to look into the not so left behind, Cycle Industry.

Today's bikes are way better than what a 80's or 90's kid had access to with better frames and yes!! Much lighter in weight, also great gear patterns to eradicate any monotony involved.

E – Bikes are like an Oasis in the desert, with pedal assist tech, riding these cycles is no less than a mini teleporting feeling!

As these bikes give you a push when u pedal. It's like one cup of ice cream free on another cup!

A must to be experienced than told.

All this said, we as a community and personally I feel cycling needs to be given more importance on roads, with better parking, dedicated lanes ,.. yes! Even small ones will do, for us to revisit new gen cycles and break the inertia involved in it.

Dedicated lanes and parking spots is a request we put across to all our Civic Authorities, politicians and The Police Traffic Commissioner.

As a number of groups are more than willing to help them as we heal mother nature and build more immunity for ourselves.

Imagine instead of taking an auto or cab, if you could cycle to the office that day! And you're saved by an unseen virus.

What more can bread winners and equally important bread bakers of the family ask for.

Our children and elderly parents are the apple of eyes and if we take up cycling, I am sure they too will try to make a change to compliment us.

# we need Cycle Lanes in Bengaluru.

Many cities and countries have them.

We need ours!

Your – Cycle Friend –

Abhijit S Pavar
Cycle World Riders Club
Events Head
91 8904676416
Thinking about joining the cycling family? The benefits of cycling are as endless as the country lanes you could soon be exploring. If you're considering taking up cycling, and weighing it up against other potential activities, then we're here to tell you that cycling is hands down the best option. Here are 15 reasons you should get on your cycle:
1. Improves Mental Well-being
people who had a physically active lifestyle had wellbeing score 32 per cent higher than inactive individuals. There are numerous ways that exercise can boost your mood: the release of adrenaline and endorphins, and the improved confidence that comes from achieving new things like completing a sportive or getting closer to that goal. Cycling is a combination of physical exercise with being outdoors and exploring new views. You can choose to ride solo – giving you some "me time" or ride with a group which broadens your social circle.
2. Promotes Weight Loss
The simple equation, when it comes to weight loss, is 'calories out must exceed calories in'. So, you need to burn more calories than you consume to lose weight. Cycling burns between 400-1000 calories an hour, depending on intensity and rider weight. Of course, there are other factors: the make-up of the calories you consume affects the frequency of your refueling, as does the quality of your sleep and the amount of time spent in burning calories will be influenced by how much you enjoy your chosen activity. Assuming you enjoy cycling, you'll be burning calories. And when you eat well, you should lose weight.
3. Builds Muscle
The resistance element of cycling means that it doesn't just burn fat: it also builds muscle – particularly around the glutes, hamstrings, quads, and calves. Muscle is leaner than fat, and people with a higher percentage of muscle burn more calories even when sedentary. To clarify – you won't end up with quads like a track sprinter unless you invest a serious amount of time at the squat rack. But you will develop a nice toned derriere.
4. Enjoy 2nd Breakfasts
If you decide to cycle to work, you've got a great excuse to add a couple of guilt free snacks to your day. A half hour ride to work would be burning 200-500 calories, you've got a license to enjoy a lovely second breakfast at your desk. If you're serious about burning fat, you could do your morning ride fasted (sans breakfast) – but that's mainly a habit reserved for the most dedicated of nutters.
5. Better Lung Health
You won't be alone if this point seems contradictory to common sense. However, according to a recent study, people who ride a bike are actually exposed to fewer dangerous fumes than those who travel by car. Surprising much?
A study by the Healthy Air Campaign, Kings College London, and Camden Council, saw air pollution detectors fitted to a driver, a bus user, a pedestrian and a cyclist using a busy route through central London. The results claimed that the driver experienced 5 times higher pollution levels than the cyclist, as well as 3 and a half more than the walker and 2 and a half times more than the bus user.
Long story short: the cyclist won. Cycling results in better sleep and cardiovascular health. It improves navigation and spatial skills, awareness, improves immune system, boosts brain power, saves time and money.
Cycle away…!!!
Got your first cycling race?
It can be daunting experience and gives more than butterflies in your stomach. But a little preparation can go a long way, here's a few tips to help you with your first bike race:
1.Group riding
Be sure to go in multiple group rides while training so you will be used to riding among other riders at high speeds and in tightly-packed groups. Group riding with a local club will teach you the benefits of drafting plus etiquette you'll need to get around without incurring the wrath of other riders.
2.Be prepared
Always familiarize yourself with the course. Often race organizers will share a map of the route well in advance so you'll have had a chance to check out the ride and perhaps ride sections, if not all of it beforehand and make preparations according to the terrain. Note all the potential hazards and danger points so you are well prepared.
3.Check your bike over
A day before the race, give your bike a thorough checking over. Don't leave anything untested. Make sure nothing is loose and check your shifting and that your brakes are functioning properly. Give your chain and drive train a good cleaning and lubricate, and also check your tires over for any deep cuts or anything untoward.
4.Pack your gear
The night before your race pack everything you will need according to the expected weather. Have a checklist including cycling top, bib'shorts, socks, shoes, helmet, gloves, and items such as jacket/cape and overshoes if the weather is expected to be unfavorable.
Some races also require you to have race license so don't forget to pack that too. Keep water bottles filled, energy bars too based on the length of the race. If you are racing for around an hour maximum then one bottle and gel will likely suffice. If you're doing a longer event, then you need to try and eat and drink around 500 calories per hour after the first hour.
5.Eat normally
The night before a race is not the time to start experimenting with what you eat. Just eat the same kind of carbohydrate-rich meal that you would the evening prior to a training ride. Always eat breakfast at least two hours before your race. Have a combination carbohydrates and protein, that you usually eat for breakfast before a training ride. Also stay hydrated the day and morning before the race.
6.Gentle ride
Having fine-tuned your bike, it is worth having a gentle spin on the day before your race. Don't go overboard, but just have a gentle spin to keep the body ticking over and fire up those muscles that you'll be using in the race tomorrow. Remember, no race is won on the back of training the day before a race, but many have potentially been lost.
7.Arrive Early
This may seem likely the blindingly obvious, but it's amazing how many people don't know the exact location of their race start and then end up starting the race in a fluster, or even worse, late. Get all the start times, directions and maps for the race printed out and arrive early.
Register as soon as you arrive, get your race number pinned on, and take your final toilet break. You should even have time for a short warm-up so why not get your legs loose and check out the last kilometer of the race and look for any potential hazards.
8.Positioning is Key
Don't spend all your time at the front as you'll unnecessarily use up energy. Take the opportunity to draft behind other riders in order to save energy – do your best to stay with the pack. Be sure not to make any sudden moves. Signal your intention of moving out. If you are not a strong climber then make sure you're the first to start the climb so that you don't get dropped completely as the good climbers start to stream past on the ascent.
The target for your first race shouldn't be to win or even be the front runner. Instead, aim at completing the race, gain experience and most importantly, have fun.
Really though, your first race should be about watching and learning that in future you'll hopefully be able to use to win.