TRENDING
Coronavirus: Boom time for bikes as virus changes lifestyles
Image copyrightGETTY IMAGES
Fear of catching coronavirus on public transport has helped lead to a boom in cycle-to-work schemes.
The schemes saw a 200% increase in bicycle orders from people working for emergency services.
Demand for more mobility and exercise amid lifestyle changes imposed by the lockdown has also boosted bike sales across the UK.
"Very strong" bicycle sales at bike and car parts chain Halfords this week saw its shares soar by 23%.
Some bike stores are battling to meet demand. Broadribb Cycles in Bicester normally despatches 20-30 bikes a week, but manager Stuart Taylor says the shop is currently selling 50 bikes every day – and seeing a commensurate rise in demand for servicing.
"It's just gone crazy," he told the BBC. "People are dragging bikes out of sheds and garages and finding they need new tyres and cables.
"We normally take in bikes for repair and servicing and deal with them for next day [pick-up]. Now we're booking services for two weeks [ahead]."
At Lunar Cycles repair shop in north London, the mechanic says trade was booming, then ended the call to avoid upsetting the socially-distanced queue outside.
Andrew Hassard from Mango Bikes in Ballyclare, Northern Ireland, said: "The bicycle industry is having a boom. People are saying 'I'm getting back on a bike after 15-20 years – I'm going to use it during lockdown – then commute on it as well,' to avoid public transport."
A recent poll for the consultants SYSTRA suggested 61% of Britons are nervous of taking public transport post-lockdown.
Adrian Warren who runs an alliance of cycle schemes, told the BBC: "This past six weeks, we have seen the biggest experiment in transport policy this country has even known. It's clear the default option is cycling."
More cycling infrastructure
Cycle schemes allow employees to claim a tax credit on bikes they buy at work.
But rusty cyclists may be nervous on busy roads, so the pressure group Cycling UK has commissioned research showing how 100 "pop-up" lanes in 10 English cities could make cycling and walking easier.
It maps UK cities which have created extra cycle lines during the crisis, in many cases taking over one car lane on a dual carriageway.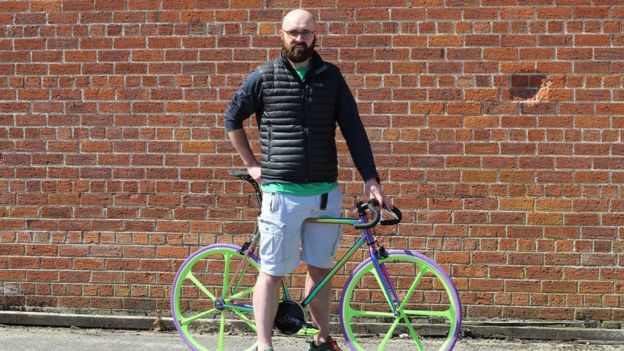 Image copyrightANDREW HASSARDImage captionAndrew Hassard of Mango Bikes says people now want bicycles as a form of regular exercise during the lockdown
The Cycling UK research from Leeds looks at English cities with a high cycling potential and has identified 99.2 miles of streets and roads in London, Birmingham, Manchester, Leeds, Liverpool, Bristol, Leicester, Sheffield, Newcastle and Cambridge which could benefit from temporary walking and cycling infrastructure.
Cities round the world have been freeing space for people on foot and bikes, in response to the coronavirus lockdown.
In Germany, expanded cycle lanes have been marked by removable tape and mobile signs.
Paris is rolling out 650 kilometres of cycleways, including a number of pop-up "corona cycleways".
Some cities, like Milan, are making the changes permanent.
The Scottish government has announced £10m of funding for councils to provide temporary space on the roads this way, and Cycling UK is urging ministers in Westminster to follow suit.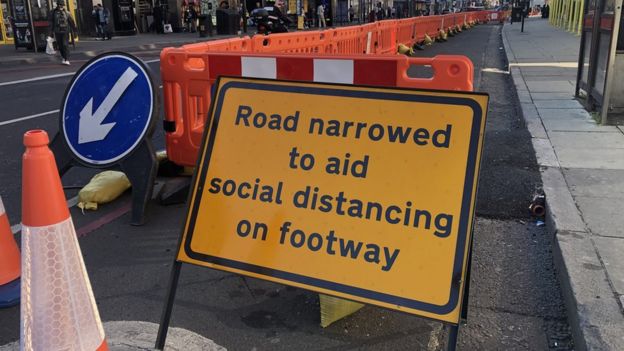 Image captionTemporary walking infrastructure set up on British roads during the coronavirus lockdown
In London, the walking and cycling commissioner, Will Norman, told the Online magazine BikeBiz that the capital's public transport capacity is running at a fifth of pre-crisis levels, meaning post-lockdown up to eight million journeys a day will need to be made by other means.
UK Transport Secretary Grant Shapps has in fact said that he favours getting people out of their cars, overall.
Mr Shapps told Sky News that he sees cycling and walking as part of the solution.
"Active transport can keep people off public transport and get people to work under their own steam – and that can be a very important part of this [the nation's post-lockdown] recovery as well," he said.
Not everyone is in favour: The libertarian group the Alliance of British Drivers has strongly opposed removing road space from motorists. But Edmund King, president of the AA, said he didn't oppose the transfer of road space to cycles "where appropriate".
By Roger HarrabinBBC environment analyst
TRENDING
COVID – 19 virus is a pandemic across the World, & Cut to point
Given the situation and a paradigm shift in people 's mind, this is the right moment to encourage more Kids – Adults – Senior Citizens to take up cycling as Play – Commute – Fitness Activity.  Cycling is just not reserved for physical activity but also has a great influence on mental fitness too, which is undoubtedly the need of the hour.

Cycling can benefit people with reduced anxiety, to better postures, and account to more savings monthly, yearly. 

We have seen the upsurge with advanced cars and motorbikes and urge people to look into the not so left behind, Cycle Industry.

Today's bikes are way better than what a 80's or 90's kid had access to with better frames and yes!! Much lighter in weight, also great gear patterns to eradicate any monotony involved.

E – Bikes are like an Oasis in the desert, with pedal assist tech, riding these cycles is no less than a mini teleporting feeling!

As these bikes give you a push when u pedal. It's like one cup of ice cream free on another cup!

A must to be experienced than told.

All this said, we as a community and personally I feel cycling needs to be given more importance on roads, with better parking, dedicated lanes ,.. yes! Even small ones will do, for us to revisit new gen cycles and break the inertia involved in it.

Dedicated lanes and parking spots is a request we put across to all our Civic Authorities, politicians and The Police Traffic Commissioner.

As a number of groups are more than willing to help them as we heal mother nature and build more immunity for ourselves.

Imagine instead of taking an auto or cab, if you could cycle to the office that day! And you're saved by an unseen virus.

What more can bread winners and equally important bread bakers of the family ask for.

Our children and elderly parents are the apple of eyes and if we take up cycling, I am sure they too will try to make a change to compliment us.

# we need Cycle Lanes in Bengaluru.

Many cities and countries have them.

We need ours!

Your – Cycle Friend –

Abhijit S Pavar
Cycle World Riders Club
Events Head
91 8904676416
TRENDING
Benefits of Cycling
Thinking about joining the cycling family? The benefits of cycling are as endless as the country lanes you could soon be exploring. If you're considering taking up cycling, and weighing it up against other potential activities, then we're here to tell you that cycling is hands down the best option. Here are 15 reasons you should get on your cycle:
1. Improves Mental Well-being
people who had a physically active lifestyle had wellbeing score 32 per cent higher than inactive individuals. There are numerous ways that exercise can boost your mood: the release of adrenaline and endorphins, and the improved confidence that comes from achieving new things like completing a sportive or getting closer to that goal. Cycling is a combination of physical exercise with being outdoors and exploring new views. You can choose to ride solo – giving you some "me time" or ride with a group which broadens your social circle.
2. Promotes Weight Loss
The simple equation, when it comes to weight loss, is 'calories out must exceed calories in'. So, you need to burn more calories than you consume to lose weight. Cycling burns between 400-1000 calories an hour, depending on intensity and rider weight. Of course, there are other factors: the make-up of the calories you consume affects the frequency of your refueling, as does the quality of your sleep and the amount of time spent in burning calories will be influenced by how much you enjoy your chosen activity. Assuming you enjoy cycling, you'll be burning calories. And when you eat well, you should lose weight.
3. Builds Muscle
The resistance element of cycling means that it doesn't just burn fat: it also builds muscle – particularly around the glutes, hamstrings, quads, and calves. Muscle is leaner than fat, and people with a higher percentage of muscle burn more calories even when sedentary. To clarify – you won't end up with quads like a track sprinter unless you invest a serious amount of time at the squat rack. But you will develop a nice toned derriere.
4. Enjoy 2nd Breakfasts
If you decide to cycle to work, you've got a great excuse to add a couple of guilt free snacks to your day. A half hour ride to work would be burning 200-500 calories, you've got a license to enjoy a lovely second breakfast at your desk. If you're serious about burning fat, you could do your morning ride fasted (sans breakfast) – but that's mainly a habit reserved for the most dedicated of nutters.
5. Better Lung Health
You won't be alone if this point seems contradictory to common sense. However, according to a recent study, people who ride a bike are actually exposed to fewer dangerous fumes than those who travel by car. Surprising much?
A study by the Healthy Air Campaign, Kings College London, and Camden Council, saw air pollution detectors fitted to a driver, a bus user, a pedestrian and a cyclist using a busy route through central London. The results claimed that the driver experienced 5 times higher pollution levels than the cyclist, as well as 3 and a half more than the walker and 2 and a half times more than the bus user.
Long story short: the cyclist won. Cycling results in better sleep and cardiovascular health. It improves navigation and spatial skills, awareness, improves immune system, boosts brain power, saves time and money.
Cycle away…!!!
TRENDING
Top Tips for Your First Cycling Race
Got your first cycling race?
It can be daunting experience and gives more than butterflies in your stomach. But a little preparation can go a long way, here's a few tips to help you with your first bike race:
1.Group riding
Be sure to go in multiple group rides while training so you will be used to riding among other riders at high speeds and in tightly-packed groups. Group riding with a local club will teach you the benefits of drafting plus etiquette you'll need to get around without incurring the wrath of other riders.
2.Be prepared
Always familiarize yourself with the course. Often race organizers will share a map of the route well in advance so you'll have had a chance to check out the ride and perhaps ride sections, if not all of it beforehand and make preparations according to the terrain. Note all the potential hazards and danger points so you are well prepared.
3.Check your bike over
A day before the race, give your bike a thorough checking over. Don't leave anything untested. Make sure nothing is loose and check your shifting and that your brakes are functioning properly. Give your chain and drive train a good cleaning and lubricate, and also check your tires over for any deep cuts or anything untoward.
4.Pack your gear
The night before your race pack everything you will need according to the expected weather. Have a checklist including cycling top, bib'shorts, socks, shoes, helmet, gloves, and items such as jacket/cape and overshoes if the weather is expected to be unfavorable.
Some races also require you to have race license so don't forget to pack that too. Keep water bottles filled, energy bars too based on the length of the race. If you are racing for around an hour maximum then one bottle and gel will likely suffice. If you're doing a longer event, then you need to try and eat and drink around 500 calories per hour after the first hour.
5.Eat normally
The night before a race is not the time to start experimenting with what you eat. Just eat the same kind of carbohydrate-rich meal that you would the evening prior to a training ride. Always eat breakfast at least two hours before your race. Have a combination carbohydrates and protein, that you usually eat for breakfast before a training ride. Also stay hydrated the day and morning before the race.
6.Gentle ride
Having fine-tuned your bike, it is worth having a gentle spin on the day before your race. Don't go overboard, but just have a gentle spin to keep the body ticking over and fire up those muscles that you'll be using in the race tomorrow. Remember, no race is won on the back of training the day before a race, but many have potentially been lost.
7.Arrive Early
This may seem likely the blindingly obvious, but it's amazing how many people don't know the exact location of their race start and then end up starting the race in a fluster, or even worse, late. Get all the start times, directions and maps for the race printed out and arrive early.
Register as soon as you arrive, get your race number pinned on, and take your final toilet break. You should even have time for a short warm-up so why not get your legs loose and check out the last kilometer of the race and look for any potential hazards.
8.Positioning is Key
Don't spend all your time at the front as you'll unnecessarily use up energy. Take the opportunity to draft behind other riders in order to save energy – do your best to stay with the pack. Be sure not to make any sudden moves. Signal your intention of moving out. If you are not a strong climber then make sure you're the first to start the climb so that you don't get dropped completely as the good climbers start to stream past on the ascent.
The target for your first race shouldn't be to win or even be the front runner. Instead, aim at completing the race, gain experience and most importantly, have fun.
Really though, your first race should be about watching and learning that in future you'll hopefully be able to use to win.
TRENDING
Famous Cycle Groups in India!
If you plan on riding for leisure and doing the riding part occasionally, you don't necessarily need to get trained with a load of professional riders.
In such a case, you can join a club where you will find people with similar aim and ambition as yours. Cycle clubs bring similar minded people to one common platform so that they can interact and share their mutual passion for pedaling.
If you love cycling and want to buy a second hand cycle before investing a huge amount on a brand-new cycle, there are also a few groups where you can easily find out a perfect cycle according to your needs. Those who wish to ride in a group but haven't been lucky enough to find themselves partners, here is a list of some famous cycle groups where you can become a member and ride in a group:
1. Cyclop
Just like the Olx and Quikr, Cyclop is a bicycle buying and selling group where you can easily buy or sell your bicycle. The members of the group are so much synced with each other, that could be seen from the extraordinary response to the posts in the group. If you are looking for a used one, then this is the place for you.
2. Cyclesutra
Cyclesutra was started with the aim to make cycling more fun as well as meaningful and to provide enthusiasts with a common platform to bond and connect. It has emerged into a huge family and has been enjoying the long riding sessions on every weekend.
3. GODCE (Group of Delhi Cycling Enthusiasts)
The members of this group are so obsessed with bicycle riding that they even don't believe in Google's distance and love to measure the distance each time they find any new place.
4. Cycling Go
The members of Cycling Goa group know only one thing and that is cycling. People here are truly inclined towards bicycles. The group also has one lady member, who is the first Indian lady to take part in 1200 km race to be held in Delhi.
5. Mumbai Cycle Enthusiasts
The group was started with a motto to bring all the cycle aficionados to same place to talk about the every possible aspect about cycling.
6. Delhi Collective Cyclists
It is a group which provides an ease to all the members with the latest news in the cycle industry along with the upcoming events and races. The group believes in exchange of thoughts that keeps the members updated. The group is also about selling bicycles and bicycle components.
7. Noida cycling club
The group is open for all but before joining, the admin straight away ask all the new members to fill a registration form that includes all the safety norms and rules. Apart from these things, they simply believe in four factors: Ride, Eat, Explore, Click photos.
Members of a club get to ride along with the supervision of the senior riders and also get to learn many rules which are necessary for the bicycle riding.
Apart from fun ride, there are various clubs which always keep on arranging different types of adventure bicycle events which are sufficient to give goose bumps to the riders.
Join them for a different experience all together or even better start one of your own cycling groups!!
TRENDING
Cycle as a vehicle of future
We have a deep connection with cycle. As children, cycle is usually the first vehicle that we ever lay our hands on. And now cycles may be the only vehicles that see the future of transportation. Although, such a world might seem too far-fetched to imagine, the prospect of cycles becoming a vehicle of the future is not completely impossible.
With increasing population, depletion of natural resources does not come as a major surprise. However, we still have not figured out a means to overcome this problem of diminished resources. Petrol and diesel consumed by cars and buses are non-renewable and therefore cannot face the ravages of time. Furthermore, it contributes immensely to polluting the environment which causes several physical and mental health problems to people.
Relaying mind boggling views
Cycling offers a spectacular opportunity to work out from beyond the confines of four walls. In fact, it renders a better view than an outdoor gym too. Cycling allows individuals to explore locations, hidden alleys, secret coffee shops and become one with nature.
Transporting endorphins everywhere
We are all aware of the positive correlation between physical exercise and mental health. What better way to exercise one's muscles, mind and body than cycling? Cycling acts as complete body work-out. Indulging in such an intensive activity makes the heart pump blood thoroughly throughout the body enabling more oxygen flow to various body parts.
Safer roads
With cycles everywhere, in each neighborhood, owned by all our acquaintances, replacing the old, polluting vehicles, doesn't the world seem a lot safer and quieter? It will, when the eco-friendly cycles are the only accessible vehicles in the near future. We can surely imagine no newspapers reporting trucks ramming into scooters, or cars running over pedestrians. Roads will therefore be a lot safer.
Reality checks in
We analyzed the benefits offered by cycles not only to our physical health but also to our mental health. However, we need to be realistic about such a scenario to make it happen.
TRENDING
A tale of cities
What defines a city? Is it the buildings, or the monuments? Should a city be known by the trees in its parks and gardens or by the birds and animals that welcome every morning? What is it that represents all that a city is? Ask the poets, the writers, the artists and they'll say it's the experiences unique to each city that give it an identity. Every city is known by its people, its places, its look, feel and smell, and all of them combined make up its experiences. And inside every city, leading to every one of those experiences, are millions of paths, lanes and roads.
Somehow, when someone talks about the experiences in a city, they fail to talk enough about these paths. These paths aren't just straight lines whose sole purpose is to run between origins and destinations. These paths often hide secrets or magical spots, untouched by the masses that otherwise throng all that is popular. You may assume that by its very nature, a city has nothing left to explore but it takes a different kind of explorer to make new discoveries in a city, to turn over old earth and find something fresh.
Cities have been carved into existence by centuries worth of conquerors and kings, sages and god men and they've left behind traces of their lives everywhere. They now await modern day explorers, those who'll find the edifices fashioned by those that came before.
But not all places within cities are ancient, some are new, exciting, full of things alive and electric, and like the others, they may only be a short distance away. To explore these places, you need something that's agile, something that motivates you to go out and prospect rather than stay indoors or trudge to the same old places. What you use during your explorations should be so convenient that it almost feels like an extension of yourself as you take in the splendour of a fireworks display at a small fair or go insane photographing every type of flower at the orchid exhibition.
There are thousands of experiences that every city has in store for you but really, there are only a couple of things you need- a desire to venture out of your house and the means to do it. And what better means than a bicycle that's light, easy to handle, doesn't cost a bomb and looks great!
So, hop on your bike, tighten your helmet, and find out what defines your city.
TRENDING
Cycling around your city to change your life
Cycling has so many health benefits that it's often astounding to just go through the list of health risks that it addresses. Science has already proved that regular cycling reduces the risk of heart disease, diabetes, obesity and even cancer, and considering how convenient it is, it's no surprise that citizens of most developed European countries have started relying on cycles for their everyday commute.
Even though we all live terribly packed lives, just some time on a cycle can do wonders for your health. Short city rides on a bike are ideal for those of us living in concrete jungles saddled with sedentary lifestyles thanks to our office jobs. Getting on a bike everyday will not only help alleviate daily stress but also help you discover how charming city life can be. Yes, cities are not only about buildings, pollution, concrete structures and never ending traffic but also about those unnoticed magical places.
With so many advantages, is it any wonder that cycling is so popular? But just in case, you still need to be convinced, here are nine big health reasons why your next decision in life should be to start cycling everyday :
Today is world heart day. A day when people from around the world rally together to spread awareness about the importance of keeping our hearts healthy. What better time than now to listen to your heart and start cycling towards a healthy tomorrow!
Source: https://machcity.com/2015/10/09/cycling-around-your-city-to-change-your-life/
TRENDING
The mind of a city cyclist
Let's talk about the mindset of a city cyclist. It is complex, but it springs from the simplicity of a machine called the 'city bike', bicycles used in cities as a means of transport or recreation.
Roshan Aibara* is a 28 year old UX (user interface) designer living in Bengaluru. Roshan is a true blue cyclist who cycles in the city, outside the city, and all places in-between and beyond. The reasons are both spiritual and utilitarian.
The spiritual part deals with what a cyclist experiences and it is best told in their own words. Listen to Roshan's answer, which is in the form of a string of statements, rambling but clear, disjointed but whole. He says, "Biking makes me feel free. I like the feel of air brushing on my face. I feel in control of everything around me and yet, I am in harmony with the rest of the world. I can sense the highs and lows of the earth. It brings me closer to nature. I feel fearless when I am left alone with my bike. I am satisfied merely by knowing that I can do things my way."
Now the more earthly stuff. The cycle is "the biggest boon to urban life", in Roshan's own words. It is true of all cities that he has lived in— Ranchi, Mumbai, San Francisco, Paris, and namma Bengaluru. Cycling in each of the cities has further deepened his marvel for the cycle, a miraculous panacea for all urban ills, thinks Roshan.
The biggest of all is that the city cycle is unbeatable as a means to beat the city traffic, be it Bengaluru or Beijing or Bangkok, whose roads look like a long parking lot. You can escape getting sandwiched between two cars for the precious part of a day. You can save time, extend your life, and give more hugs to your family! Cycling in the city helps you earn the biggest perishable resource in the world: time.
Roshan said that cycling in the city helps him "shrink the tire and fatten the wallet". He is referring to two things: a) the health benefit of burning calories and its effect on preserving a lean midriff, and b) the money he saves on petrol and the upkeep of the car or any other vehicle. When combined, these two advantages have the miraculous effect of strengthening two of the most important assets in life: health and wealth.
The cyclist is the master of the city's web of internal roads, the crosses and the streets, the avenues and the enclaves. In many ways, the veteran cyclist can beat the GPS with his knowledge of numerous alternate routes to a destination. He knows the nooks and corners of the city and the character of every locality. He has discovered parts of the city unknown to many others.
So, that's the mind of a cyclist— defined by an innate sense of balance, engineered to seek efficiency, and driven by purpose. Just like the Mach City!
*Name changed upon request to protect identity
Source: https://machcity.com/2015/12/24/the-mind-of-a-city-cyclist/
TRENDING
Andreas Seewald registers his 5th consecutive stage win at 12th Hero MTB Himalaya 2016
7 days into 12th Hero MTB Himalaya, the riders have traveled a distance of 449 kms. The 6th Stage on the 7th day named Heaven's ridge was a short stretch of 56.3kms featuring an elevation gain of 1,590m and an elevation loss of 824m.
Maximum elevation of 2,040m was achieved by the riders travelling from IIT Mandi, Kamand to Jatingri. Riders were awestruck with the spectacular views of Himalayan landscapes, with the majestic Dauladhars on one side, views to the flatlands on the other and mountains of Kullu District.
The race also went along Diana Park.
Andreas Seewald continued his command in the race and finished the stage in a time 2:21:43. This is his 5th consecutive stage win in the race. Cory Wallace was trailing Rocky Mountain Team 19th minute into the race. He finished 2nd with a time of 2:32:27.
A couple of small crashes happened, Marcus Werf riding under Masters Solo category injured his thigh.
Top 5 Riders:
Andreas Seewald: 2:21:43
Cory Wallace: 2:32:27
Andreas Hartmann: 2:32:28
Manuel Weissenbacher: 2:32:28
Jason English: 2:32:28
Top Indian Rider:
Devender Thakur: 2:52:27
Shiven: 3:00:21
David Kumar: 3:16:02
Top 3 Open Men Solo:
Andreas Seewald: 2:21:43
Cory Wallace: 2:32:27
Jason English: 2:32:29
Top 3 Open Women Solo:
Ilda Pereira: 03:06:05
Catherine Williamson: 3:06:06
Top Masters Solo:
Johan Labuschagne: 2:52:28